A word vector Kabbalistic tree of life
January 16, 2017
In the first chapter of Visual Complexity: Mapping Patterns of Information, Manuel Lima explores the symbolism of the "tree" across history and mythologies. One of those examples was the Kabbalistic tree of life, and the 10 Sephiroth and 22 paths that connect them: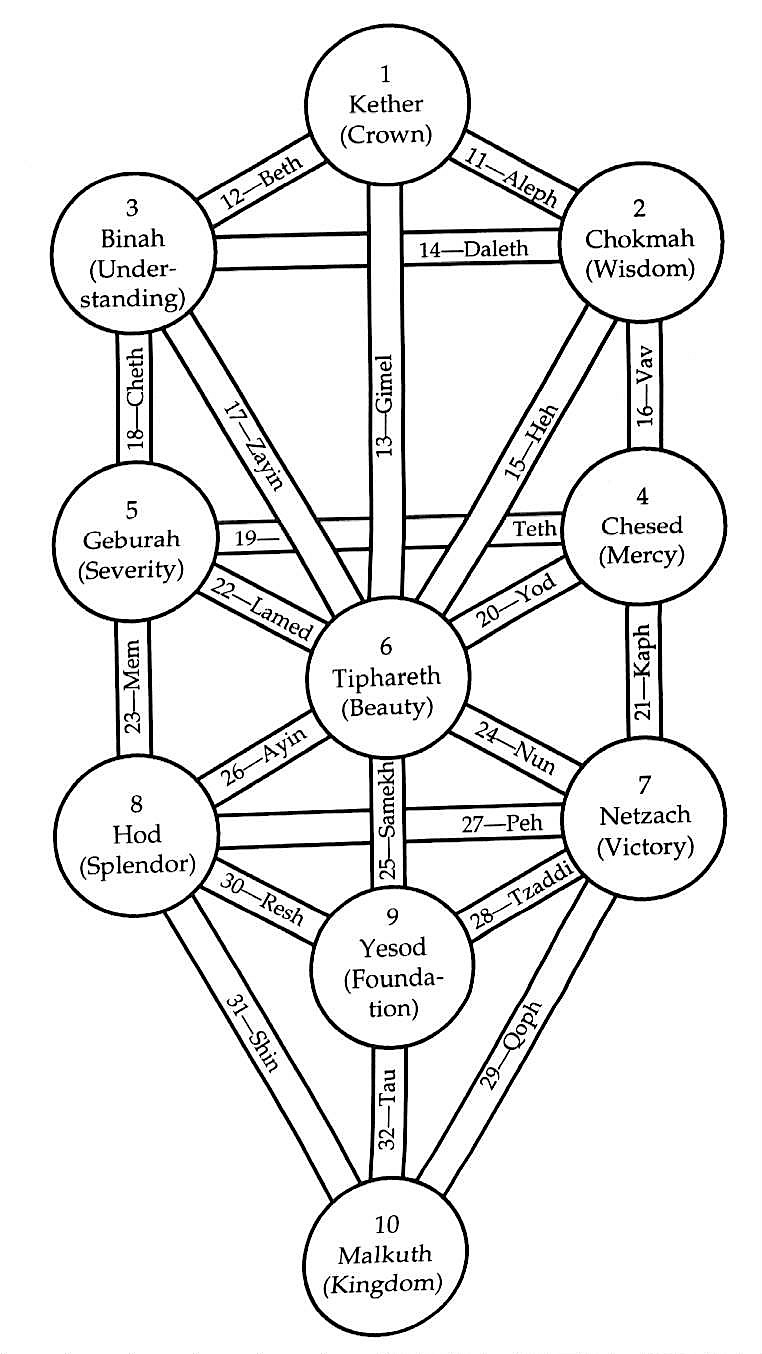 The interpretations of the Kabbalah are profound and esoteric, and here is a brief summary I found online:
The Tree of Life can be thought of as a kind of spiritual electrical grid, fluid and dynamic, with each path a conduit for rays of Divine light, and each Sephira (emanation) a kind of "recharging station." The current radiates simultaneously downward and upward, from God to man and vice versa.
(via this site)
Forgive me – my first (and irresistable) thought was, of course, to check what the Kabbalistic tree would have looked like if instead it had been constructed by a sentient English-language Wikipedia that produced each node by summing the word vectors of each of its "parent" nodes. I didn't attempt to follow the definitions recursively, or to make a graphic out of it… also, the words are slightly different on the version of the graphic I saw, excerpted from the book, than the closest image I could find online.
>>>

 

w2v

 

=

 

gensim

.

models

.

Word2Vec

.

load

(

'/home/sam/data/word2vec.bin'

)

 


>>>

 

w2v

.

most_similar

(

positive

=

[

'crown'

,

 

'understanding'

,

 

'wisdom'

])




[(

'knowledge'

,

 

0.6604611873626709

),


 

(

'understandings'

,

 

0.5606856346130371

),


 

(

'compassion'

,

 

0.5548983216285706

),


 

(

'humility'

,

 

0.5505481362342834

),


 

(

'spirituality'

,

 

0.5481384992599487

),


 

(

'intellect'

,

 

0.547366738319397

),


 

(

'enlightened'

,

 

0.5395829081535339

),


 

(

'insights'

,

 

0.5381983518600464

),


 

(

'virtues'

,

 

0.5300473570823669

),


 

(

'righteousness'

,

 

0.5270552635192871

)]




>>>

 

w2v

.

most_similar

(

positive

=

[

'wisdom'

,

 

'mercy'

])




[(

'compassion'

,

 

0.6991716623306274

),


 

(

'god'

,

 

0.6622496247291565

),


 

(

'divine'

,

 

0.6501489877700806

),


 

(

'goodness'

,

 

0.6394760608673096

),


 

(

'humility'

,

 

0.6371676325798035

),


 

(

'kindness'

,

 

0.6344395875930786

),


 

(

'merciful'

,

 

0.6176332235336304

),


 

(

'blessed'

,

 

0.5986860990524292

),


 

(

'virtues'

,

 

0.5865875482559204

),


 

(

'righteousness'

,

 

0.5852228999137878

)]




>>>

 

w2v

.

most_similar

(

positive

=

[

'understanding'

,

 

'wisdom'

,

 

'power'

,

 

'mercy'

])




[(

'compassion'

,

 

0.6683579087257385

),


 

(

'knowledge'

,

 

0.6467682123184204

),


 

(

'goodness'

,

 

0.6005892753601074

),


 

(

'humility'

,

 

0.5934966802597046

),


 

(

'intellect'

,

 

0.5860059261322021

),


 

(

'divine'

,

 

0.5844542980194092

),


 

(

'god'

,

 

0.5809390544891357

),


 

(

'spirituality'

,

 

0.5757241249084473

),


 

(

'virtues'

,

 

0.5739660859107971

),


 

(

'kindness'

,

 

0.5709549188613892

)]




>>>

 

w2v

.

most_similar

(

positive

=

[

'power'

,

 

'beauty'

])




[(

'pageant'

,

 

0.5011138319969177

),


 

(

'beautiful'

,

 

0.5001429319381714

),


 

(

'magnificence'

,

 

0.4852966070175171

),


 

(

'beauties'

,

 

0.4808778762817383

),


 

(

'elegance'

,

 

0.4804859161376953

),


 

(

'electricity'

,

 

0.480072945356369

),


 

(

'charm'

,

 

0.46535760164260864

),


 

(

'grandeur'

,

 

0.463988721370697

),


 

(

'glamour'

,

 

0.46390610933303833

),


 

(

'natural'

,

 

0.4628627896308899

)]




>>>

 

w2v

.

most_similar

(

positive

=

[

'mercy'

,

 

'beauty'

])




[(

'beautiful'

,

 

0.5934549570083618

),


 

(

'grace'

,

 

0.5787848234176636

),


 

(

'compassion'

,

 

0.5566599369049072

),


 

(

'blessed'

,

 

0.5549587607383728

),


 

(

'goodness'

,

 

0.5435079336166382

),


 

(

'kindness'

,

 

0.5386494398117065

),


 

(

'beauties'

,

 

0.531730592250824

),


 

(

'gracious'

,

 

0.5310201048851013

),


 

(

'lovely'

,

 

0.5282090902328491

),


 

(

'sorrow'

,

 

0.5231517553329468

)]




>>>

 

w2v

.

most_similar

(

positive

=

[

'beauty'

,

 

'glory'

,

 

'eternity'

])




[(

'eternal'

,

 

0.6972339749336243

),


 

(

'everlasting'

,

 

0.6580407619476318

),


 

(

'heaven'

,

 

0.6451823711395264

),


 

(

'beautiful'

,

 

0.6184502840042114

),


 

(

'splendor'

,

 

0.5999501347541809

),


 

(

'heavenly'

,

 

0.5985769033432007

),


 

(

'greatness'

,

 

0.5912061929702759

),


 

(

'god'

,

 

0.591046154499054

),


 

(

'forever'

,

 

0.5900967121124268

),


 

(

'sorrow'

,

 

0.5879574418067932

)]




>>>

 

w2v

.

most_similar

(

positive

=

[

'foundation'

,

 

'glory'

,

 

'eternity'

])




[(

'eternal'

,

 

0.6702155470848083

),


 

(

'everlasting'

,

 

0.6093697547912598

),


 

(

'heaven'

,

 

0.5928328037261963

),


 

(

'forever'

,

 

0.5868773460388184

),


 

(

'greatness'

,

 

0.5695515275001526

),


 

(

'god'

,

 

0.5680379271507263

),


 

(

'immortality'

,

 

0.5462555885314941

),


 

(

'spirit'

,

 

0.545385479927063

),


 

(

'hope'

,

 

0.5385457873344421

),


 

(

'splendor'

,

 

0.5371355414390564

)]